UPDATE on page 18 (5-15-14): 3-year anniversary!
UPDATE on page 16 (5-15-12): 1 year anniversary of 90 lb weight loss!
UPDATE on page 19: COVID weight gain and subsequent LOSS.
************************************************
I've reached (and passed) my goal weight.
So I wanted to post my official testamonial here. I will update in future (esp. once I've been to the doctor again), but wanted to go ahead and make it official!
*************************************************
NEW: STAR McDOUGALLER STORY

HERE

!

FINAL STATS (updated as we go along)
Starting weight (1/1/10): 207 (BMI 33.4)
Goal weight reached (1/2011): 137 (BMI 22.1) (70 pounds lost)
Current weight (6/9/11): 117 (BMI 18.9 ) (90 pounds lost)
Height: 5'-6"
Born: 1962
Below, 1st number is from 11/09 (BEFORE); 2nd number is from 1/11; 3rd number is from 6/11

LABS:
Total cholesterol: 181. . . . 137. . . . 123
HDL chol: 62. . . . 40. . . . 40
LDL chol: 109. . . . 81. . . . 66
Triglycerides: 49. . . . 82. . . . 84
Blood glucose: 113. . . . 89. . . . 79
Blood pressure/HR (see also long discussion of this issue HERE]:
BP: 155/96. . . . 146/81 (in office) and 126/80 (at home)
HR: 88. . . .55
*********************************************************
I have to start by admitting that I was formerly a failed McDougaller. I succeeded my first time around (1999) in losing 70 pounds, but after a few years I gradually slipped off the McDougall wagon and ended up in the dirt again, gaining back every ounce I had lost (and an additional 5 pounds). How did I do that? Not by eating the Standard American Diet (SAD) as so many have. I have been vegetarian since 1986 and vegan since 1992. But I was vegan for primarily ethical reasons: even when being a "good" vegan I used oil in cooking, as well as other high-fat items (nuts, tofu, etc.). And too often I was a "bad" vegan, falling back on frozen vegan "fast food" that is marketed to appear healthy, but which is full of fat and processed carbs. And, of course, in my worst moments, I ate French fries, potato chips, and other junk food. It's amazing how much junk food there is that is vegan! And it's amazing how quickly eating that stuff eroded all the progress I had made McDougalling.
When I moved to my farm, and then began a second job, I was spending many hours a week in the car, and got into the habit of stopping for (vegan) burritos on the way home. I stopped cooking almost entirely, relying instead on frozen items and other fast food. I was still 100% vegan, but no longer eating healthy at all.
From a low of 128 pounds in 1999, I eventually reached a high of 207 in October 2009.
When I saw the picture of me reading a passage at the wedding of my best friend, I was spurred to action . . . sort of. I remember feeling resentful, primarily. After all, I was already restricted in what I could eat. I didn't eat meat or dairy, and my diet was better than that of most people I knew (junk food and all). Why should I "suffer" further by returning to the McDougall plan? Note that I knew perfectly well what the solution to my problem was—I'd lost weight easily before and I KNEW I could do it again, and yet still I resisted, delayed, and tried to talk myself out of it!
At around the same time, I had a doctor's appointment, at which I learned that my blood pressure was at the point (nearly 160/100) where my doctor wanted me on medication. I had always (even when overweight) been a very healthy person, and I found this shocking. I was also surprised to see that my total cholesterol, previously 126, had risen to 181 (despite my not having eaten any animal products in more than 20 years). I reluctantly started on the blood pressure medication and decided to try to be a little bit "better" about my diet (while still not willing to re-commit fully to the McDougall plan). I still ate the fast food, but less of it, and I had a salad every day for lunch. When I returned to the doctor at the end of May, I realized that over the 6 months between January and June, I had lost 8.5 pounds.
Somehow, that small victory, and the fact that my blood pressure was still elevated on the medication (and the doctor was insisting that I go on "stronger" medication--Norvasc), pushed me over the edge. I went on the Norvasc but discontinued it after less than a month, based on what Dr. McDougall says
HERE.
In June 2010 I re-committed fully to the McDougall plan, and over the next 6 months I lost 70 pounds. I find the Maximum Weight Loss plan easier to follow, in part because many of the higher-fat foods permitted in small amounts on the Regular plan (such as tofu and nuts) are foods that I can and will overeat on. I prefer to stick to whole foods (veggies, fruits, grains, and potatoes), with as little processed food as possible. It's partly that I tend to be an all-or-nothing person, but it's also because I simply feel better when I stick with whole foods and avoid what is processed. I also really love to eat! The MWL plan allows me to eat as much as I want of whatever I make, and I really do eat a LOT of it!
Since being back on the plan, in addition to losing 70 pounds (I am now at 137, which puts me at a BMI of 22.1 (I am 5'-6" tall) and a size 6 dress, down from size 16!). My total cholesterol has gone from 181 to 137, and my BP has gone from 155/96 to 146/81 (doctor's office) and 126/80 (at home). At age 48, I am fit and healthy, and I look great.
[One note about my BP. Please be sure to read
THIS THREAD
. I learned that not only do I have "White Coat" syndrome (higher BP in doctor's office) but that I am extremely sensitive to caffeine. I had eliminated coffee but not tea, and finally eliminating that as well is what brought my BP way down.]
Best of all, I really do enjoy what I am eating! I think back on the way I felt when I weighed 207 and thought that I would be "suffering" if I returned to the McDougall plan and I laugh! I'm cooking more than I have in years—most of it quick and easy stuff, thanks to Jeff Novick's wonderful "Fast Food" DVD—and I'm starting to work on modifying authentic Indian recipes to be McDougall-safe. I eat a LOT of food—sometimes 3-4 helpings of my favorite soup—and am happy and satisfied.
I think I can promise that this time, there will be no going back. I'm grateful to have been given a second chance to return to a healthy weight, and to avoid the serious health problems that were lurking around the corner for me, thanks to the McDougall plan.
Here is a link to my Journal, which I kept sporadically throughout the process. It's not complete but may be helpful to some.
ETeSelle's McDougall Journal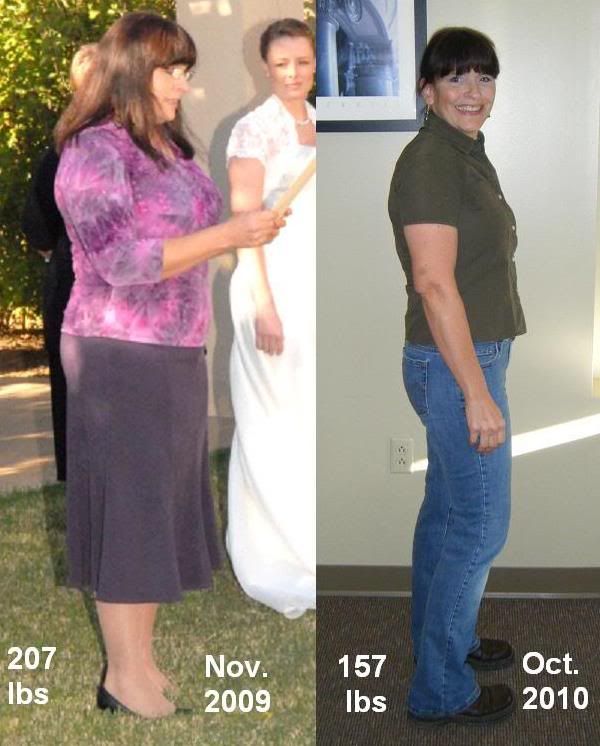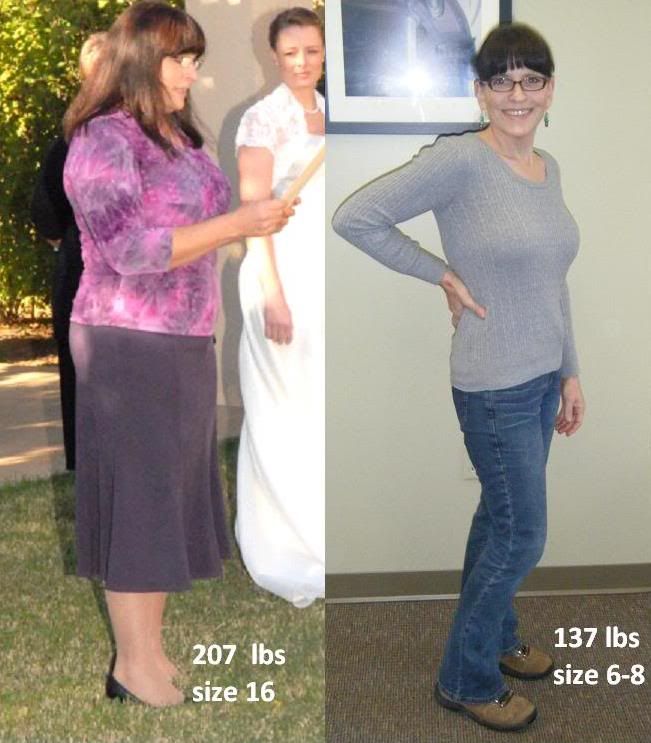 UPDATE:
New pix in my new SIZE 4 SKINNY JEANS!!!! WHOO HOOOO!!!!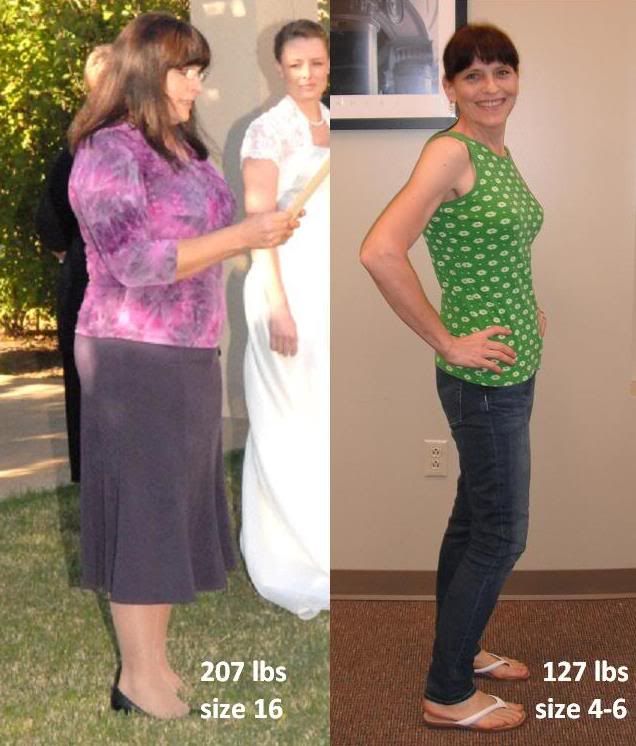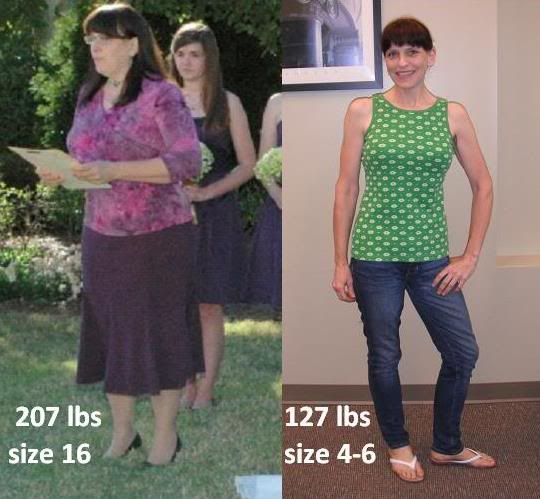 AND here are some I took this a.m. of me in my size 16 jeans. I don't have a full-length mirror, and the flash obscures my head, but this is as good as it gets, living alone.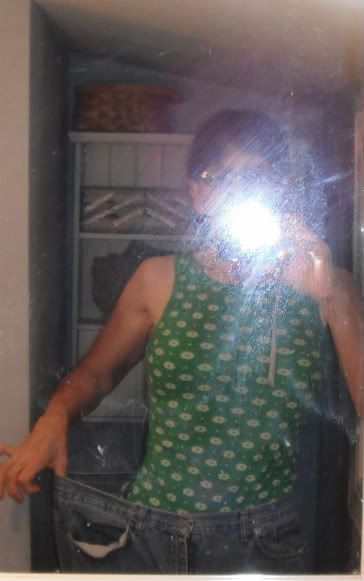 UPDATE: Final comparision pix!
Just sent in my Star McDougaller story to Dr. McD as requested! A friend took some pix of me for that. Here's the final comparision! WHOO HOOO!!!!